How do You Wear T-shirts Fashionably?
f

Share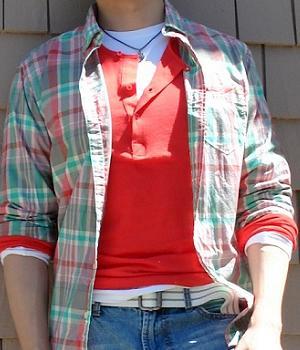 A white solid tee is the undershirt on top of which is solid orange t-shirt on top of which is a plaid casual shirt



Photo #2
Men's T-shirts are one of the most common clothes men wear. If you have the knowledge to wear t-shirts stylishly you'll be able to impress those around you even people you've just met. Let's first look at solid color t-shirts and you can find relevant articles in the Related Articles section for finding out how to wear, for instance, graphic tees tastefully!
Solid Color T-shirts
A men's solid color T-shirt, or plain color T-shirt, is a T-shirt of a single color, usually black, gray, or white. Solid color T-shirts are a great candidate for wearing accessories as they are usually of simple or modest style by themselves. A men's accessory can highlight a solid colored tee and give your looks a theme which varies with the kind of accessories. For example if you wear a gold eagle pendant you may radiate masculinity and aggressiveness.
When wearing a solid tee a guy can wear almost any kind of necklace, with or without a pendant. Silver, gold and bronze are common colors for necklaces. You look good when wearing a necklace on top of a single colored tee.
Photo #1
shows an example of wearing a solid white T-shirt and a silver pendant.
One thing we need to be concerned with when wearing solid color tees is color scheme matching between tops and bottoms which we'll cover in some other section. For example you can wear a white T-shirt and a pair of light blue jeans, but it'd look less attractive if you wore a white T-shirt and dark blue jeans. As long as the color of tops and that of the bottoms match each other according to color scheme one will look presentable.
Photo #1
also shows an example of wearing a solid white tee and a pair of light blue jeans.
Solid color T-shirts are usually used as undershirts and if worn properly they are part of a stylish outfit.
Photo #2
shows an example. In this example a white solid tee is the undershirt. On top of it is solid orange t-shirt on top of which is a plaid casual shirt. Isn't this outfit beautiful or what?
In order to dress properly color matching is one of the most important pieces of knowledge. Unless for some specific occasions that require you to dress colorfully people do not wear too many colors. To have three or four different colors in your outfit is proper.
The proportion of each color is vital. Coloring in the right proportions will make one look fashionable. Learning from nature helps us build a sense of color contrasting and color proportions. It is eye-catching to see a bunch of bright red berries among dark green leaves. The contrast of red Christmas flowers against light green stems is vivid to the eye.
Photo #2
further reinforces this fact. You can find many examples in life to learn from.
One another thing we need to know is whether our own skin tone matches certain colors. For example shiny dark skin looks radiant in red. I have brownish dark skin and
Photo #3
shows two outfits where my skin tone blends well with the red color tops. The bright color accentuates the skin color and brings out the best of it. On the contrary, yellowish color skin does not look good in red. Yet pink might suit this tone of skin. Study your skin color so you can find the suitable colors to wear.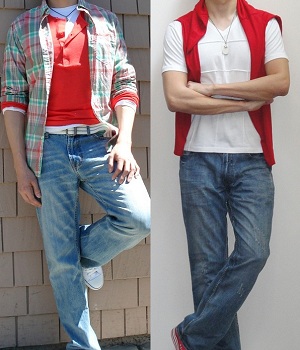 Two outfits where dark skin tone blends well with the red color tops



Photo #3