How Do You Wear Jackets Stylishly?
f

Share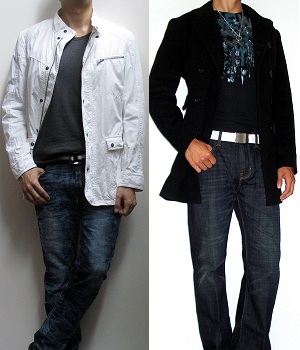 Stylish Jacket Plain T-shirt versus Plain Jacket Stylish Graphic Tee



Photo #1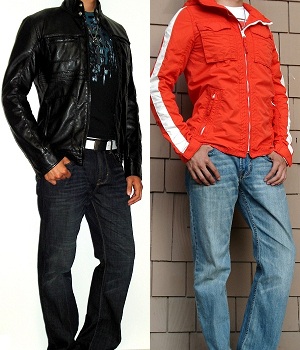 Dark color jacket versus Light color jacket



Photo #2
Jackets are one of the most versatile men's clothes. Men's jackets come in all kinds of flavors and styles and it's up to you which jacket you wear on a given occasion.
Jacket selections page
gives you an idea of how jackets can be broken down into:
by brand
,
by color
,
by pattern
,
by style
, even
by material
!
The KEY to Wearing Jackets Fashionably
The KEY is that a STYLISH jacket should be matched with a PLAIN looking inner top (left side of
Photo #1
). By the same token a PLAIN jacket should be matched with a STYLISH inner top such as a graphic t-shirt (right side of
Photo #1
). If all your tops are plain looking simply wear a necklace or a pendant and you'll accomplish the same goal. This is because you don't want your tops to look overly complex!
Other Big Factors of Wearing a Jacket
Even though there are many kinds of jackets our focus should be on the color, style, and pattern. They are the biggest factors of how you should wear a jacket and on what occasion. Below we'll discuss each attribute.
Jackets by Color
Color is definitely at the top of the list. When someone looks at you the color of your outfit is what draws their attention. Generally you pick dark colors for more serious or formal occasions, and given the right style you can impress people with your sharp appearance.
Photo #2
shows such an example on the left. The black leather jacket and the dark blue jeans certainly give a swell look!
A lighter color in general exhibits a relaxing appearance.
Photo #2
shows an example on the right. The orange jacket and the light blue jeans compose a casual, peppy image. The white graphic tee reinforces this perspective!
Jackets by Pattern
The pattern of your jacket is also important as it is highly noticeable. Usually the pattern decides the occasion of your jacket. For example if it's a striped jacket like the one on the left in
Photo #3
it's suitable for a casual occasion. If it's a plain suit jacket like the one on the right in
Photo #3
then it's suitable for a formal occasion. Usually if there's any visible pattern on the jacket then it's meant for casual wear!
Jackets by Style
The style of the jacket is also one of the things people notice first. Generally if the jacket has complex style it's meant as casual wear.
Photo #4
left side shows a military style jacket. If it's a silk jacket or a shiny blazer it's meant as formal or semi formal wear.
Photo #4
right side shows such a black blazer. You can make a formal or semi formal outfit out of this blazer!
Conclusion
Browse the
jackets section
to explore different jackets options and how to match them the best and the most fashionable way!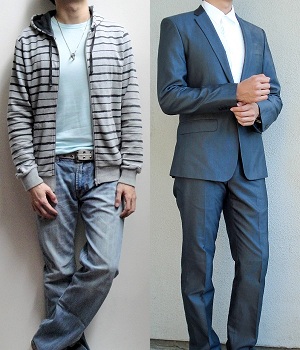 Striped jacket versus Plain suit jacket



Photo #3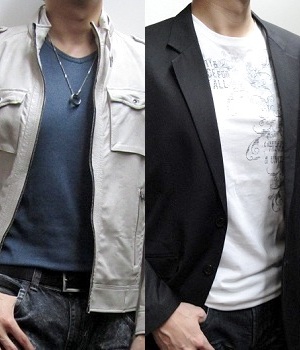 Beige Military Jacket for Casual Wear versus Black Blazer for Formal or Semi Formal Attire



Photo #4